Freshmen Enrichment Program is an orientation activity to help the new Binusian to get to know about the system, rules and learning process in campus life. FEP is divided into 3 parts :
General Orientation (GO)
Academic Orientation (AO)
Campus Life Orientation (CLO)
General Orientation
General Orientation is an introduction to Binus University environment, rules and registration, UKM and about Buddy Coordinator. In General Orientation, I was in batch DBN 01 & 02 . All the members in DBN 01 & 02 are Global Class students, there are Computer Science, Information System, International Relations, Management and Accounting students.
Day 1 of General Orientation, 15th August 2016
It was a briefing day and we were told about what to do, what to bring and what to wear on the next days. The first time I met all my friends in DBN, I know no one of them. After we introduced ourselves one by one, we chose Devin Yudha as our 'komti' then we were separated by our major and it was time with our Buddy Coordinator too. The first session was not really long, at 12 pm we were allowed to go home.
Day 2 of General Orientation, 16th August 2016
On the second day, there was Binusian Journey session and continued by Bunga Rampai session. Bunga Rampai is where all the campus organizations and communities performing and promote their organization so that the new students will join them. We were told that joining organization is an important thing because we can learn a lot from it especially improving our soft skills. After all the sessions on that day finished, me with some of my friends stayed in the campus to discuss our jingle and we were assisted by our annoying yet so kind Buddy Coordinator, Raditya Evans.
Day 3 of General Orientation, 17th August 2016
It was our nation's Independence Day yayyy! We have to join flag ceremony at Kijang Campus and continued by many competitions. Me and my friend, Brian, we joined 'makan kerupuk' competition. Unfortunately, I lost because it was hard for me to reach the kerupuk 🙁 But Brian won the competition, he won the first prize! After that, I and some of my friends went to Binus Square to practice our jingle.
Day 4 of General Orientation, 18th August 2016
Just like usual, we had sessions. The first session was about rules in Binus University and the second session was an introduction to Binus Maya.
Day 5 of General Orientation, 19th August 2016
Session about campus life, examinations and registration. The session was brought by our Buddy Coordinator.
Day 6 of General Orientation, 20th August 2016
That day was EXPO Day! So it was time for us to register ourselves to organizations or communities that we want. It was so crowded there but it was fun. I registered in BNCC and Stamanara. After that, the next session was 'Kebersamaan', we were all from batch DBN gathered in the hall and perform our jingle group by group.
General Orientation for me was so fun, I am happy that I can meet a lot of new friends and get close to them. I met a lot of friends from different majors. Our BC also share a lot of things to us and they are so so kind and we get close to each other so easily. Thank you DBN 01 & 02 for the good times! DBN satudua, we are two but one! :p<3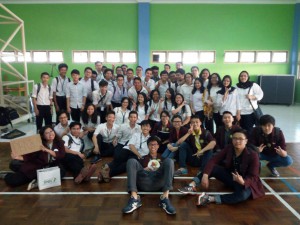 Organization Skill
After I became a Binusian, I was taught many times that organization is an important thing. And I realized that it is. We can get a lot of benefits from it, we can learn more and improve our skills especially soft skills. I joined BNCC and I asked many of them, they told me that by became a part of it, their life has changed a lot.
Academic Orientation
Academic Orientation is an orientation about our major. Basically, it is an introduction about the curriculums, study skills and also about our lecturers.
HTTP (Himti Togetherness and Top Performances)
There was an event organized by HIMTI. The name of the event is HTTP (Himti Togetherness and Top Performances). It is an exclusive event for School of Computer Science students. The event was held at BPPT II Building, Thamrin. This year, HIMTI took "Passion, Innovation, Togetherness" as the theme of the event. All Computer Science students were so excited, they arrived early before the event start. There were also IT showcases from HIMTI outside the auditorium, students can see and try a lot of games and unique applications made by HIMTI's members.
First of all, the event started at 9 in the morning. After the opening, there was Peanut Butter Band performing and there was opening speeches from Martin Arlando Teng as the head of HTTP, Jonathan Gozali as the head of HIMTI Kemanggisan, Rionaldo Aureri as the head of HIMTI Alam Sutera and Fredy Purnomo, S.Kom., M.Kom as Dean of SoCS Bina Nusantara. Then, there was an introduction to all of School of Computer Science lecturers and staffs and continued by a video of Mr.Andreas Chang delivering messages to all of us. Before lunch break at 10.50 AM, there was solo performer named Adam and mini games.
Secondly, after all of us ate the lunch box, we can look around and see a lot of stalls there, we just have to go back again at 12.30 PM. There were food stalls, bantex stall and much more. In break time, a lot of students met a lot of new friends, we talked, get to know each other and of course, we took a lot of photos together.  Then after the break time was finished, all of us gathered again in the auditorium. The next session was talkshow with Nathanael, Reynold, Christian, rewards session and mini games. Last but not least, there was a Visualization Performance about HIMTI. After the performance done,  there was also a flashmob from all HIMTI's crews.  Then, it was continued with the second break.
Moreover, after we waited, we were allowed to go inside again but this time, we were asked to get into the bottom section of the auditorium. The closing event began with a performance from Revolution Dance and Vibing High Band. Their performances were so great and all of us were enjoying it. After that, there was a symbolist inauguration for all of School of Computer Science where we have to wear our Bina Nusantara Alma mater. Lastly, our event closed with a great and fun performance from DJ Angello. Besides getting a lot of fun and new experiences, we also got T-Shirt and HIMTI Kit. It was tiring but so fun! 😀